Warm Loving Cymbidiums for Sale
Updated 1/13/19
Prices for single plants.
Quantity discounts available.
Minimum order is 5 plants.
Please email us directly for details:
2 inch pots $15 plus shipping*
4 inch pots $20 seedling, $25 mericlone plus shipping
5 inch pots $25 seedling, $30 mericlone plus shipping
1 Gallon $30 seedling, $35 mericlone Plus shipping
For plants in spike, add $5 per plant for each spike
*We charge a small fee for the cost of the box plus our very low Fedex two day charges. Typically 2 lbs costs about $12 Fedex and a 4" pot runs about 1 pound each. We have a new policy on shipping. We suggest you order a min of 5 plants to make the shipping worth while. We are certified to ship the varieties below to any state.
We have the following crosses available for shipping:
---
---
From our Windowsill Cym® series:
---
These are warm tolerant, easy to bloom and very compact
Clones
Street of Gold 'Mana' in " pots Blooming size, some in spike
Our warm tolerant hybrid is very easy to grow and will bloom 1-1.5 years from flask. Street of Gold will form multiple spikes from the same new bulb and bloom as often as 2-3 times a year. It is a compact cross with small bulbs and blooms in small pots.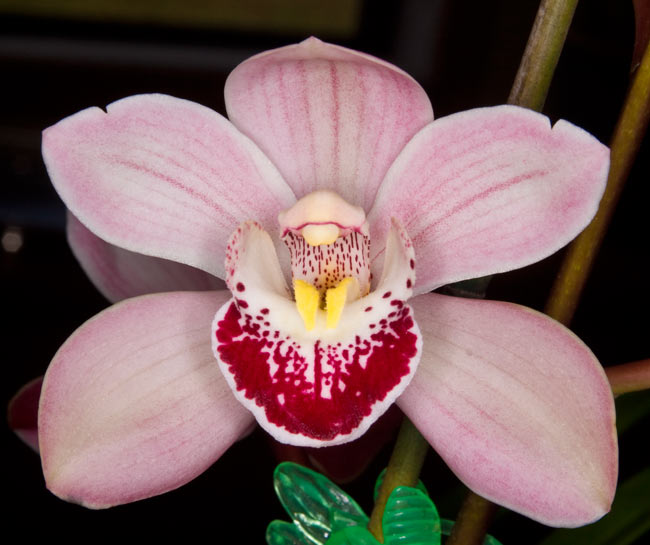 Vanessa Amorosi 'Paradise' 4" pot
Mericlone of our early blooming warm tolerant selection of the best of the Vanessa Amorosi. Very prolific and easy to flower with many spikes in small pots. Compact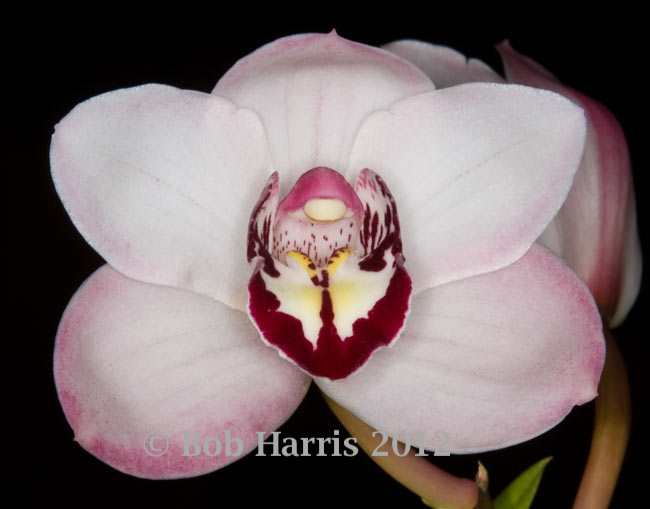 Fire on the Mountain ' Sunset' in 4" pot
3 inch flowers, 15 per spike
PY12 Valeries Forest in 4" pot
Warm tolerant 3.25" flowers with 8-10 per spike. Very small bulbs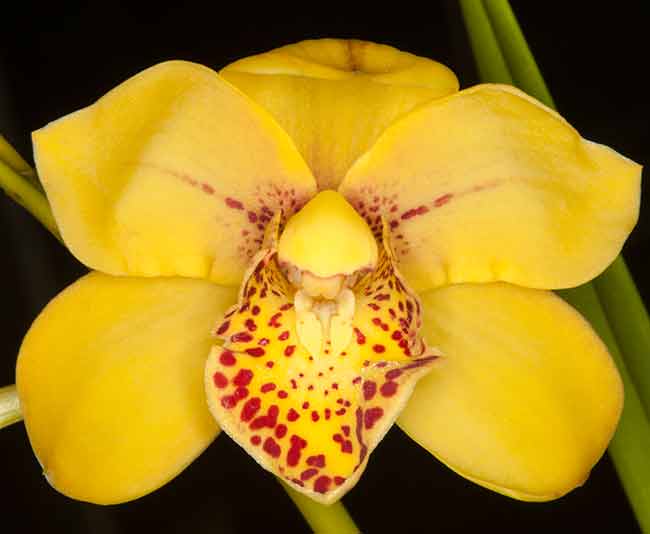 Morning Dew in 4" pots
A very warm tolerant cross with ensifolium, canaliculatum, and Summer Elf. Easy to grow, multispiking mini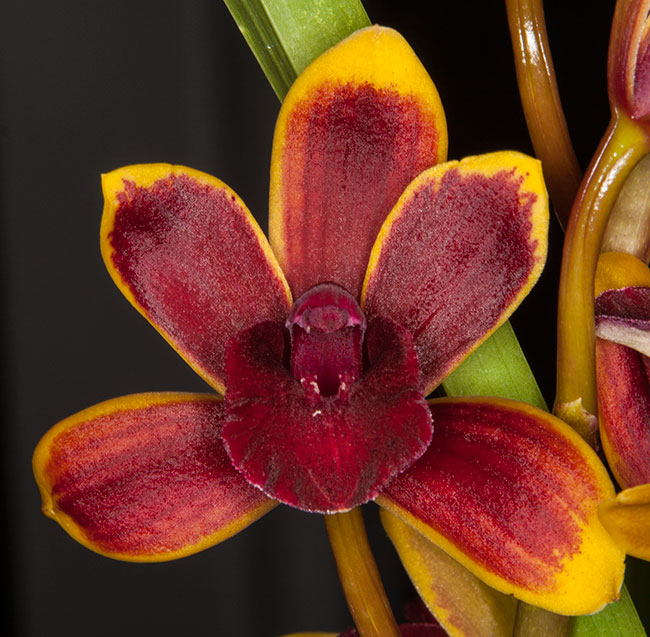 Terrapin Flyer in 5" pots
A nice intermediate green WT cross of King Arthur and Peterborough
'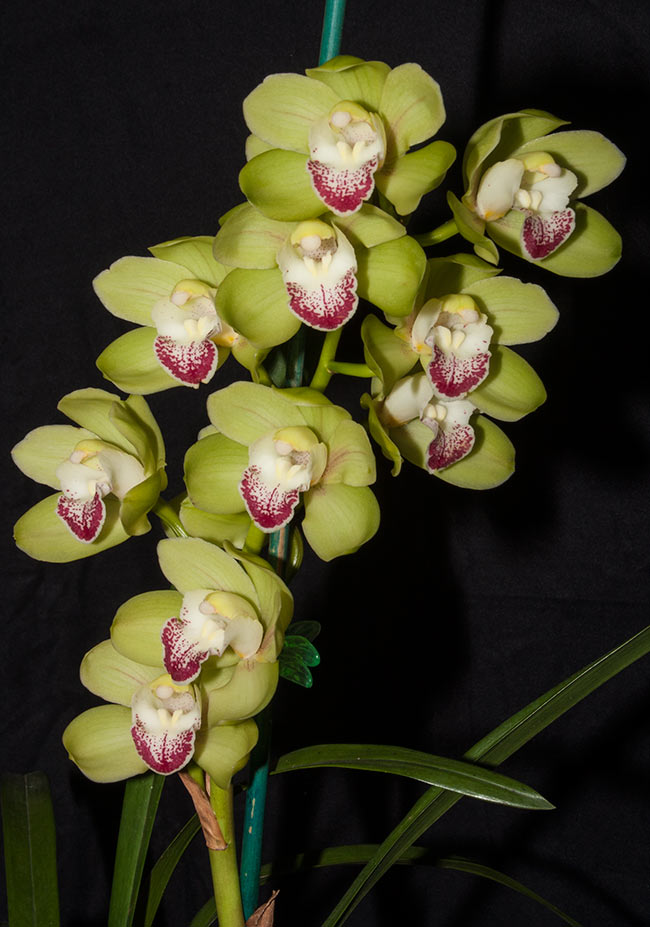 Dutchman's Gold 'Apricot' in 4" & 5"pots
A WT arching yellow scented cross of madidum with Golden Elf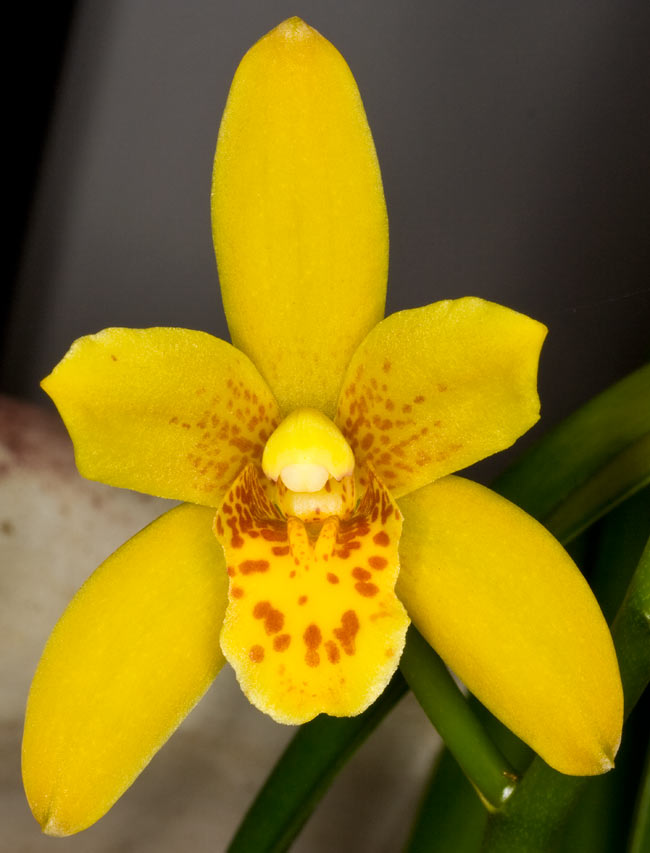 OP20/15 Isadore Rosenfeld 'Thanksgiving' in 4" pots
This is our remake of the warm tolerant cross of Peter Pan with Peterborough. Very warm tolerant mini with nice contrast.

OP1601 Sarah Jean 'Ford Cascade' in 4" pots NBS
Free flowering pendulous warm tolerant with better flowers than Sarah Jean 'Ice Cascade'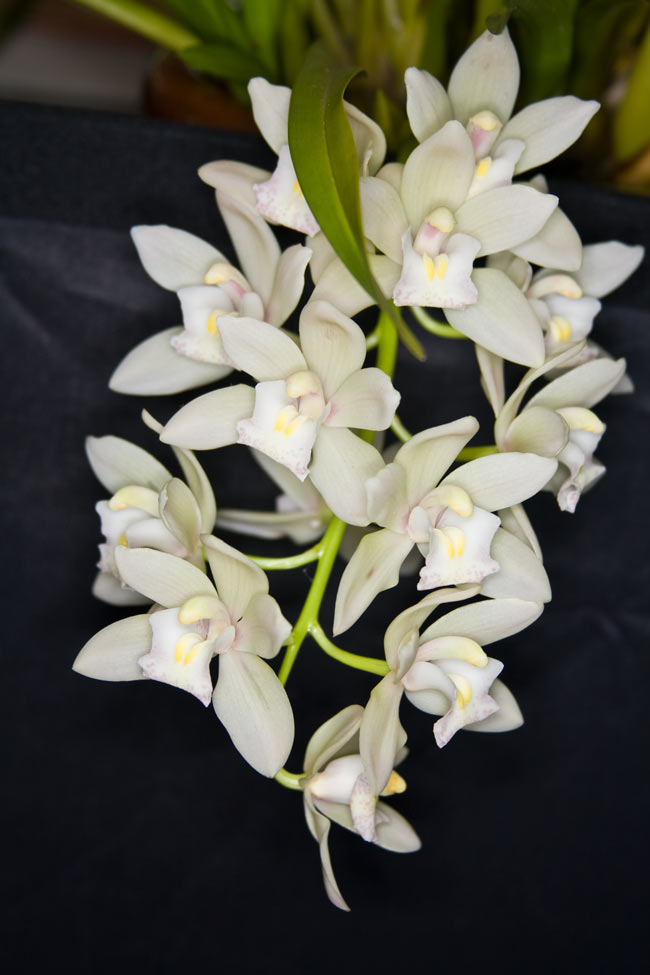 Here Comes Sunshine 'Tangerine' in 5" pots
Our warm tolerant hybrid made from (Milton Carpenter x (Kusuda Shining x Karen 'Maize')).
We had many lovely varieties come from this cross, some alba, some yellow and this nice orange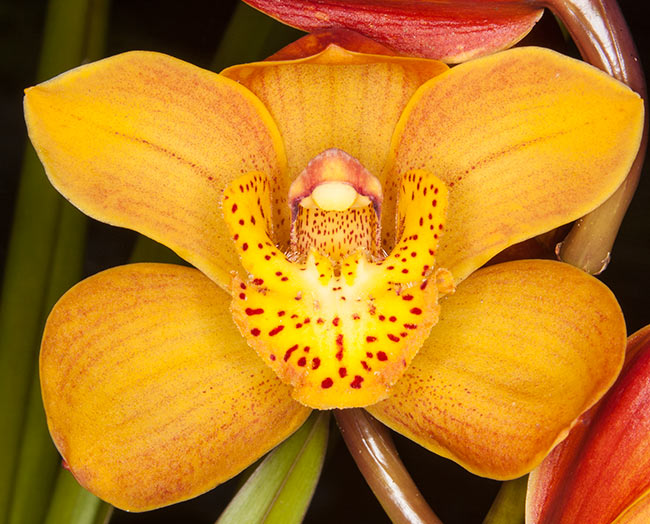 Peter Pan 'Lawson's #5' in 4" pots
An inproved clone of the classic warm tolerant mini Peter Pan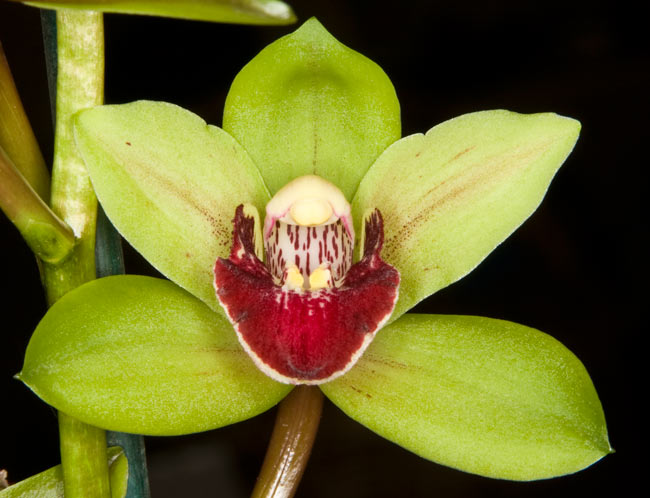 Peter Fire 'Torch' in 4" pots some in bud
A wonderful warm tolerant mini red made from Peter Pan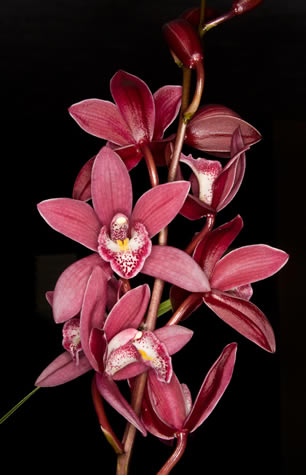 Valentines Love 'Leanne'
A lovely green hybrid made from Peter Pan with improved flowers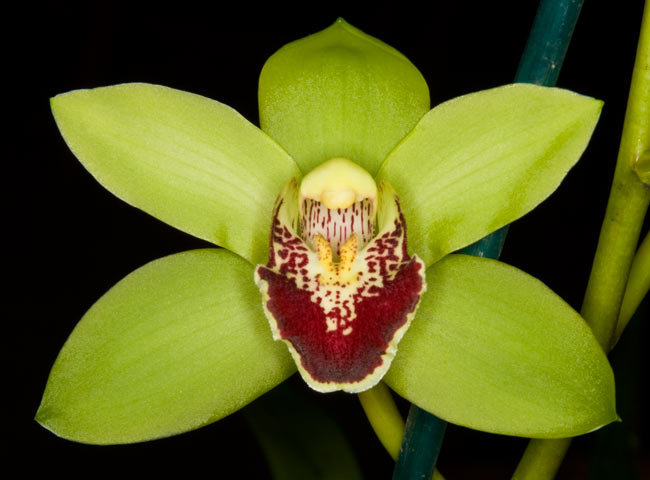 Seedlings
Maureen Carter 'Fragrant Princess x ensifolium 'alba' in 4"pots
All alba, possible scented with tall spikes. Very warm tolerant cross of a sinense hybrid with the species ensifolium
OK1614 (Vanessa Amorosi 'Paradise' x (Dolly 'Featherhill' Valerie Absolonova #51)) in 4" pots
A new seedling in our warm tolerant hybrid lines
Vanessa is a nice compact early that is both warm tolerant and blooms fast.. ie 1-1.5 years from flask and is multi spiking.
We crossed it with an albanistic cross of Dolly x Valerie Absolonova to get a higher flower count and taller spike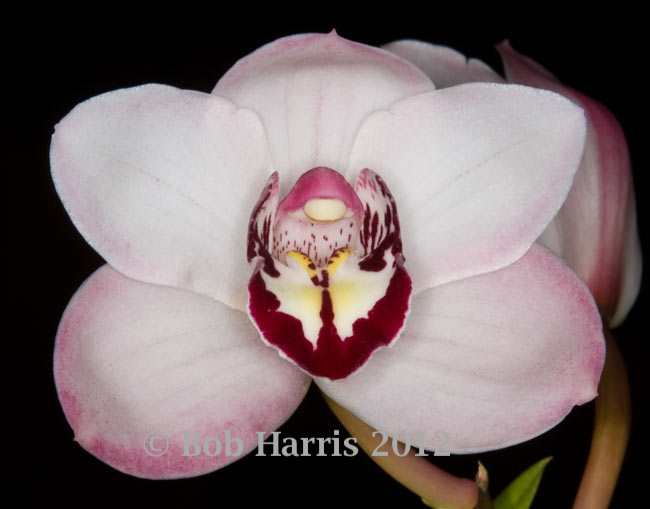 OPP815 (Western Movie 'Key Lime' x Peter Pan 'Lawson's #5') in 5" pot
A warm tolerant cross of a nice Peter Pan hybrid back crossed with Peter Pan for warm tolerance
x
OP1608 Cumberland Blues 'Dark Red' 2" and 5"pots
This is Valerie Absolonova crossed with Pele. Should have nice warm tolerance possibly heat tolerant
Medium 3" flowers on a medium spike 10-12 flowers on a spike
OP29/15 Remake of Cutesie (treated with Oryzalin) in 4" pots blooming size
Very warm tolerant to heat tolerant. Made with select alba ensifolium from tohe collection of Joe and Barbara Rudvalis that has large flowers and a tall spike. These seedlings were treated wtih Oryzalin so there are some polyploids possible
OPP738 Remake of Cutese untreated 4" pot blooming size some in bud
See above. Very warm tolerant to heat tolerant. Made with a select alba ensifolium from the collection of Joe and Barbara Rudvalis that has large flowers and a tall spike
Seedlings
We currently have too many seedlings coming along to put up the pictures of each. So I'm listing most of the crosses and you can inquire.
These are all in 4" pots, most blooming size or near blooming size.
| | |
| --- | --- |
| | |
| OPP524 China Cat Sunflower 'Ivory Snow' x Peter Pan 'Lawson's #5' | green wt tall spiek |
| | |
| OPP482 King Arthur 'Green Giant' x  Peter Pan 'Lawson's #5' | green wt larger flower |
| OPP578 Willunga Eyecatcher 'Barcelona' x Peter Pan 'Lawson's #5' | green wt larger flower |
| | |
| OPP698 Samba in the Rain "Sunshine Superman' x Keep Rolling By 'Sienna' | golds to oranges wt |