Warm Loving Cymbidiums for Sale
Updated 6/11/15
Prices for single plants.
Quantity discounts available.
Minimum order is 5 plants.
Please email us directly for details:
2 inch pots $10 plus shipping*
4 inch pots $15 plus shipping
5 inch pots $20 plus shipping
1 Gallon $25 Plus shipping
For plants in spike, add $5 per plant for each spike
*We charge a small fee for the cost of the box plus our very low Fedex two day charges. Typically 2 lbs costs about $12 Fedex and a 4" pot runs about 1 pound each. We have a new policy on shipping. We suggest you order a min of 5 plants to make the shipping worth while. We are certified to ship the varieties below to any state.
We have the following crosses available for shipping:
---
---
From our Windowsill Cym® series:
---
These are warm tolerant, easy to bloom and very compact
Clones
Street of Gold 'Mana' in 4" pots
Our warm tolerant hybrid is very easy to grow and will bloom 1-1.5 years from flask. Street of Gold will form multiple spikes from the same new bulb and bloom as often as 2-3 times a year. It is a compact cross with small bulbs and blooms in small pots.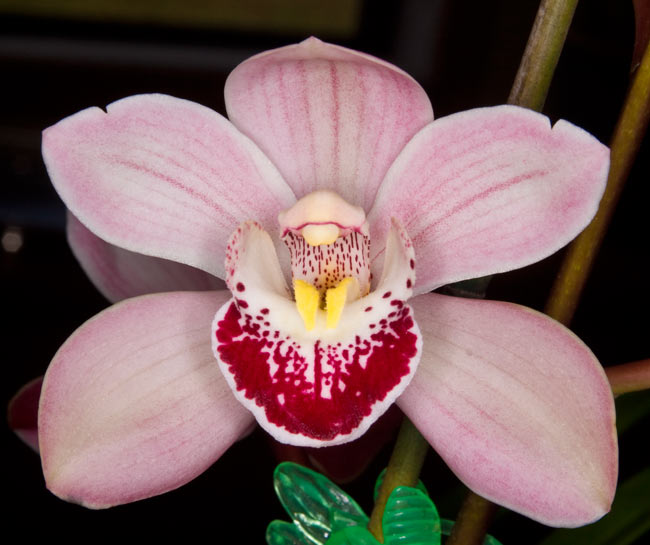 Vanessa Amorosi 'Paradise' 5" pot
Mericlone of our early blooming warm tolerant selection of the best of the Vanessa Amorosi. Very prolific and easy to flower with many spikes in small pots. Compact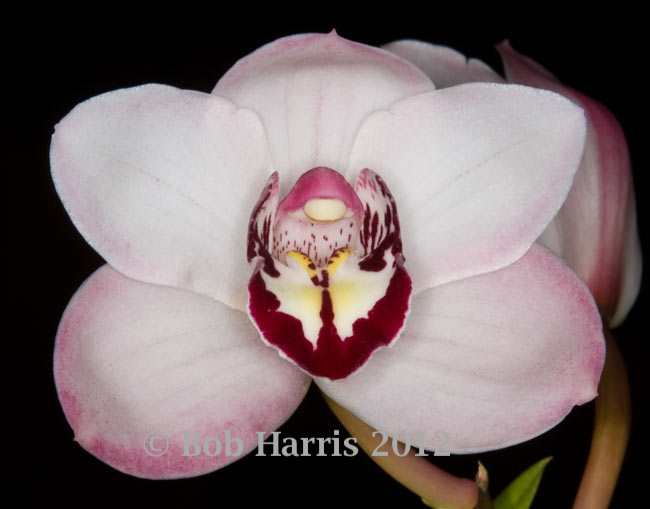 Picasso Moon 'White Lightning'' in 5" pot
12 flowers on a spike, 3.75" flowers Turns white with age
Picasso Moon 'Green Pastures' in 2" pot
The most green of the Picasso Moon. 3.5" flowers 13 to a spike
Fire on the Mountain '#1 Orange' in 4" pot
3 inch flowers, 15 per spike
Here Comes Sunshine 'Ruby Throat' in 5" pot
4 inch flowers 10 per spike

PY22 Mighty Bright #2 x Shing Kuskar #1 'Sunrise' in 6" pot
Fragrant. 3" flowers. 10 per spike.
PY12 Valeries Forest in 4" pot
Warm tolerant 3.25" flowers with 8-10 per spike. Very small bulbs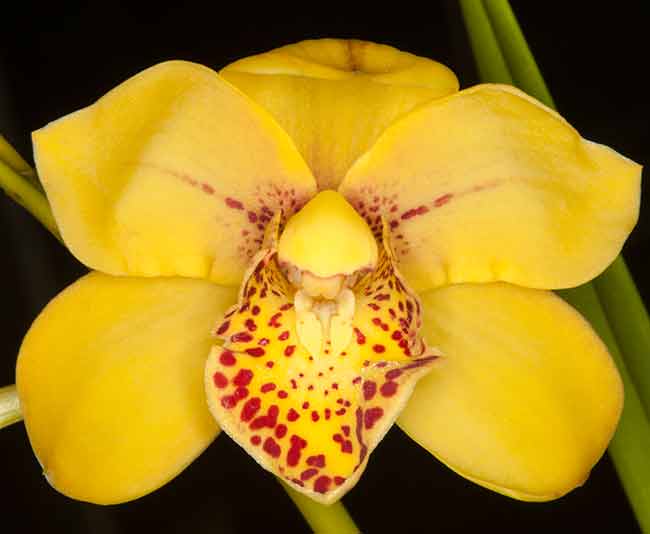 Morning Dew in 4" pots
A very warm tolerant cross with ensifolium, canaliculatum, and Summer Elf. Easy to grow, multispiking mini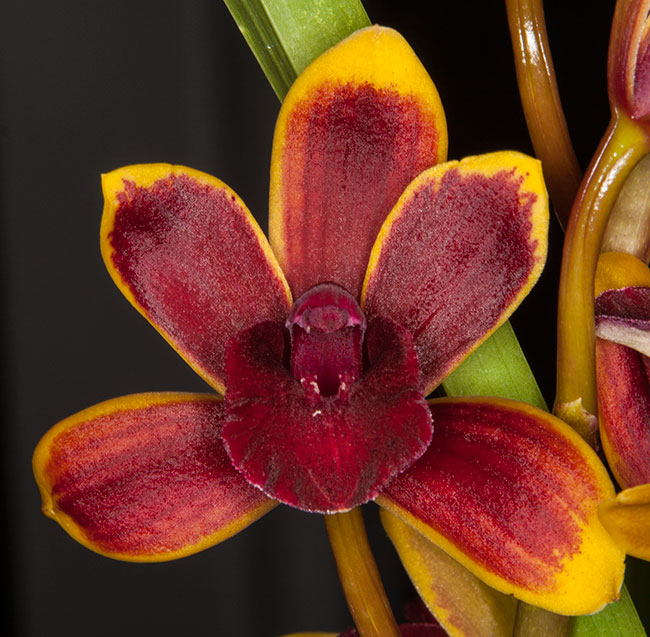 China Cat Sunflower 'Corn Silk' in 2" and 4" pots
A WT easy blooming alba for late summer early autumn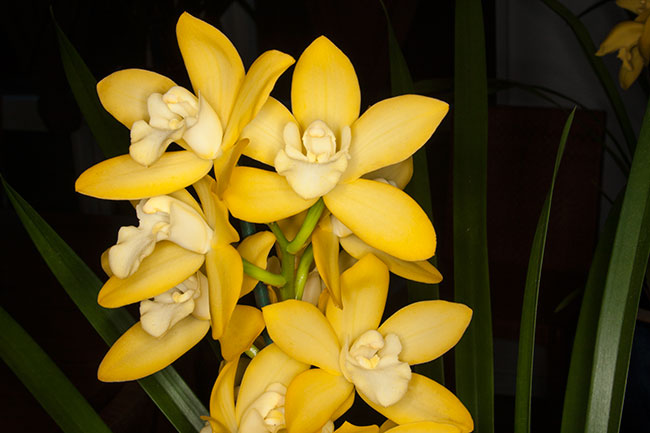 Terrapin Flyer 'Mr' Big in 2" and 4" pots
A nice intermediate green WT cross of King Arthur and Peterborough
'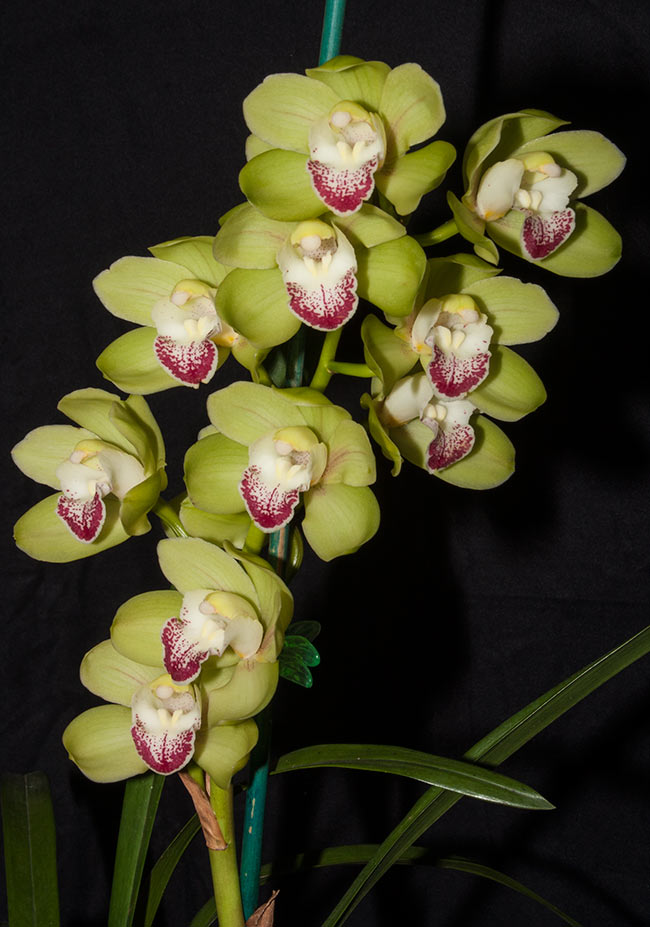 Dutchman's Gold 'Apricot' in 4" pots
A WT arching yellow scented cross of madidum with Golden Elf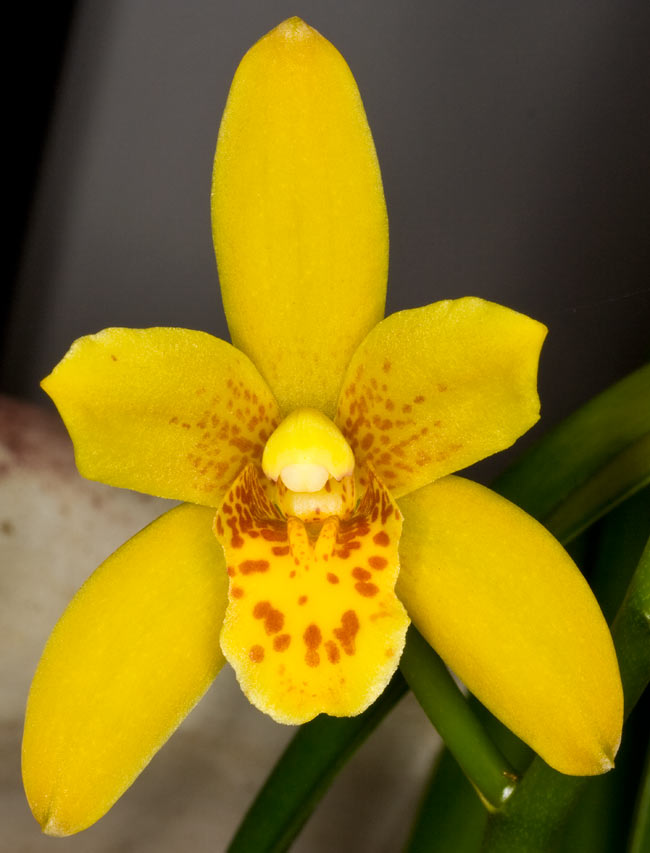 OP20/15 Isadore Rosenfeld 'Thanksgiving' in 2" pots
This is our remake of the warm tolerant cross of Peter Pan with Peterborough. Very warm tolerant mini with nice contrast.

Here Comes Sunshine 'VBY' in 2" pot
Warm tolerant with flowers up to 4" across- VBY is Very Bright Yellow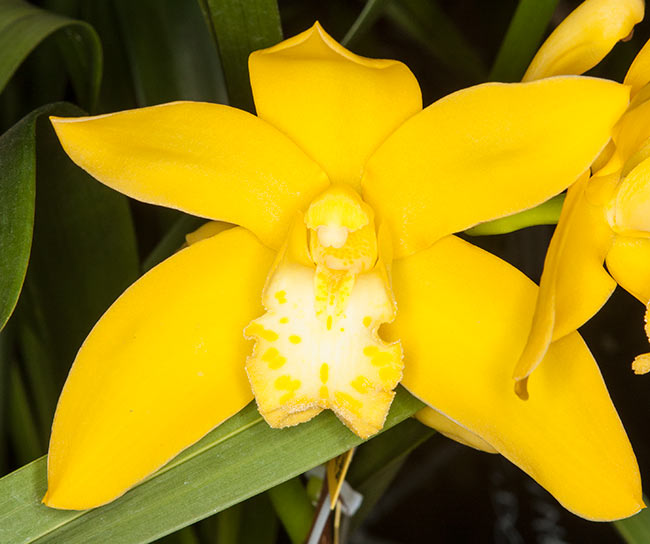 Seedlings
Maureen Carter 'Fragrant Princess x ensifolium 'alba' in 4"or 5"pots
All alba, possible scented with tall spikes. Very warm tolerant cross of a sinense hybrid with the species ensifolium
OK1614 (Vanessa Amorosi 'Paradise' x (Dolly 'Featherhill' Valerie Absolonova #51)) in 2" pots
A new seedling in our warm tolerant hybrid lines
Vanessa is a nice compact early that is both warm tolerant and blooms fast.. ie 1-1.5 years from flask and is multi spiking.
We crossed it with an albanistic cross of Dolly x Valerie Absolonova to get a higher flower count and taller spike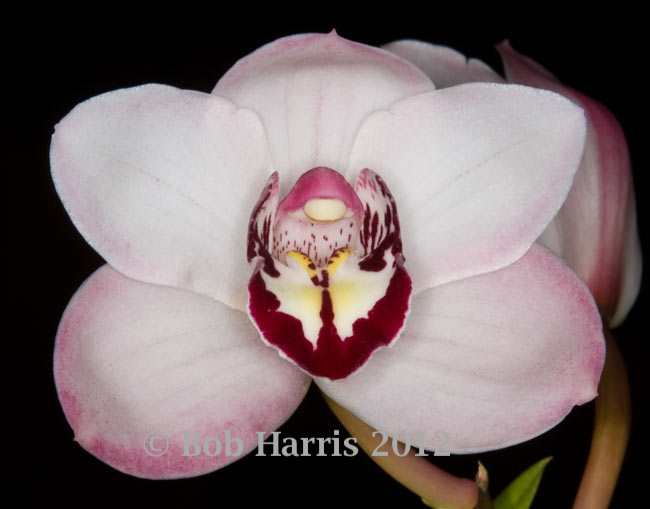 OPP815 (Western Movie 'Key Lime' x Peter Pan 'Lawson's #5') in 2" pot
A warm tolerant cross of a nice Peter Pan hybrid back crossed with Peter Pan for warm tolerance
x
Seedlings
We currently have too many seedlings coming along to put up the pictures of each. So I'm listing most of the crosses and you can inquire.
These are all in 4" pots, most blooming size or near blooming size.
| | |
| --- | --- |
| OPP569 Wendy Dolling #7 x Rosy Cloud 'Paradise' | white to blush |
| OPP533 Wendy Dolling #2 x erythrostylum 'Tikitere' 4n | white possible dark lip  |
| OPP561 Picasso Moon 'GRW17' x erythrostylum 'Tikitere' 4n | white spotted lip |
| OPP520 Picasso Moon 'GRW-17' x Peterborough | green, possible alba |
| OPP574 Royal Emerald #1 x  Peter Pan 'Lawson's #5' | nice shape some warm tolerance spotted lip |
| | |
| OPP572 Enzan Shining 'Royale Flame' x Valerie Absolonova 'Red Rooster'  | orange art shades |
| OPP469 Madam Papillon 'Flaming Orange'x  Kusuda Shining 'Geyserland' | as above |
| OP54/14 Maureen Carter 'Fragrant Princess' 3n x ensifolium 'Quan Yin Sue Sing' | alba yellow or white possible scent very wt |
| | |
| OPP593 Elderberry Wine 'Rose' x Peter Pan 'Lawson's #5' | pink some with dark lip |
| OPP553 Vanessa Amorosi 'Paradise' x Peter Fire 'Torch' | white to blush dark lip |
| PYS37 Peter Pan 'Lawson's #5' x Peterborough =Isadore Rosenfeld | remake of green with solid dark lip |
| OPP506 Rosy Cloud 'Paradise' x Vanessa Amorosi 'Paradise' | white to blush |
| OPP635 Pure Inca 'Gold' x Peter Pan 'Lawson's #5' | green to yellow mild wt |
| OPP620 Sleeping Dawn 'Dos Pueblos' x Peter Pan 'Lawson's #5' | yellow tall spike |
| OPP465 Street of Gold #1 x Rosy Cloud 'Paradise' | white to blush dark lip |
| OPP512 OPP102 Estimated Prophet GRY2x  Peter Pan 'Lawson's #5' | green wt tall spiek |
| OPP573 Peter Pan 'Lawson's #5' x Rosy Cloud 'Paradise' | white to blush dark lip |
| OPP668 Samba in the Rain "Sunshine Superman' x Peter Pan 'Lawson's #5' | yellow wt |
| OP67/14 Snow Court x ensifolium BR yellow/green | white alba |
| OPP594 Elderberry Wine 'Rose' x Wendy Dolling #10 | pink dark lip |
| OPP497 Maureen Carter 'Fragrant Princess' 3n x  Valley Freestyle 'Heaven Scent' | gold to bronze both parents highly scnented |
| OP49/14( ensifolium 'Quan Yin Sue Sing' x sanderae 2n) is Tender Love | remake of Tender love, treated for polyploid induction |
| OPP745 Peter Pan 'Lawson's #5' x Sugar Magnolia 'Pink 21' | pink tall spike |
| OPP524 China Cat Sunflower 'Ivory Snow' x Peter Pan 'Lawson's #5' | green wt tall spiek |
| OPP601 Let Your Love Light Shine 'Sea Nymph' x Peter Pan 'Lawson's #5' | green wt tall spiek |
| OPP709 Peter Pan 'Lawson's #5' x Gentle Touch 'Bon Bon' | green some wt nice shape |
| OPP482 King Arthur 'Green Giant' x  Peter Pan 'Lawson's #5' | green wt larger flower |
| OPP578 Willunga Eyecatcher 'Barcelona' x Peter Pan 'Lawson's #5' | green wt larger flower |
| OPP552 Samba in the Rain 'Buttercup' x Peter Pan 'Lawson's #5' | yellow gold |
| OPP508 Happy Mimi  x Peter Pan 'Lawson's #5' | reds |
| OPP606 OPP145 erythrostylum cross Very Dark Lip VDL x Rosy Cloud 'Paradise' ƒ | white with erythro shape, some solid dark lip |
| OPP698 Samba in the Rain "Sunshine Superman' x Keep Rolling By 'Sienna' | golds to oranges wt |